Happy Holidays Everyone!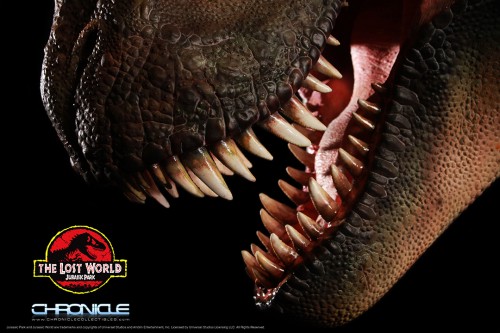 We have a new Customer Service Coordinator working with us as some of you have seen already. Her name is Heather Ross and she is absolutely fantastic! If you need information regarding our products, we both can be reached at hross@chroniclecollectibles.com and agarrett@chroniclecollectibles.com.
We are getting ready to release our first Jurassic Franchise product! We do not have a confirmed date of the release yet, but we are trying to get it posted before the end of the year. It is the Jurassic Park: The Lost World 1/5th scale T-Rex bust. This product will be wall-mounted and is molded and cast from an original 1/5th scale Stan Winston Male T-Rex.
We have several products from the Jurassic Franchise in the works and in the approval process with Universal. As we have them ready, we will be putting up "sneak peeks" on our Facebook and Twitter pages as well as sharing photos through some of our partners in social media.
If you haven't gotten a chance to check out our new website, please do! We're really excited about it. We are still working out some kinks, so if you have any trouble at all with any of the sites functions, please let us know. Also, we have gotten feedback from several existing customers regarding the account feature on the site. As this is new, we were not able to port in existing customers and orders and you will not be able to create an account within the site until your next purchase. When you are able to create your account, you may not be able to see order history from before the new site. We apologize for any inconvenience. If you have any questions about your order history, please let us know.
Follow us on Facebook, Twitter, Instagram and the StatueForum. And of course at www.chroniclecollectibles.com.
Have a very happy holiday everyone! You will be hearing from us again soon!
Inline image 2
Amy Garrett
(469) 939-9421
General Manager
Chronicle Collectibles
agarrett@chroniclecollectibles.com
*****************************
*****************************
Statements made, or views expressed may NOT be the views of Modeler's Miniatures & Magic
Pricing and Availability are subject to change by the Kit Maker/Vendor or Artist at any time. Modeler Magic is not responsible for maintaining the prices in accordance to the changes made by the Kit Maker/Vendor or Artist.

Professional Customer Service and Quality Control are the responsibility of the Kit Maker/Vendor or Artist selling the item of which Modeler Magic is only showing for them.
Modeler's Miniatures and Magic has no professional or monetary affiliation with any kit makers, vendors or artists shown on this site other than showing the works and offerings those Artists, Kit Makers and Vendors wish to show on Modeler Magic in their own names. Modeler Magic promotes the art form in this way. Modeler's Miniatures and Magic claims no trade marks or copyrights on anything shown on it's site other than it's own created artwork presented. Modeler Magic reserves the right to remove any material shown at any time from anyone, and we will follow all legal aspects of the art form as they are presented to us by the proven legal owners of the above stated materials and/or their court appointed representatives.

****************************************