PRE-ORDER NOW AVAILABLE!!

Presents

1:1000 (24 Inches Long!)
USS Enterprise
NCC-1701-D
$1,999.00 USD
Special Introductory Price!
$1,701.00 USD
Plus Shipping


"To boldly go where no one has gone before…"
Estimated Q4 2020
A starship is many things to many people. A home. A vessel. A pillar of strength. Comfort and protection in the midst of a hostile environment. All of these roles combine to create a community for a diversity of beings with a singular purpose: Peace, protection, and exploration. To those living within and those who merely watch it pass by, a Starship is, above all things, a symbol of these qualities. And in the long and proud history of Starfleet, no starships have embodied those ideals more so than those that have carried the name, U.S.S. Enterprise.
For more than seven years, from its first mission at Farpoint to its destruction on the surface of Veridian III, the Enterprise-D carried that mantle. As the flagship of the Federation fleet, and commanded by her captain, Jean-Luc Picard, she played host to diplomats and emissaries, explored strange and wondrous new worlds, and carried her crew into battle. The tales told of the Enterprise-D are now the stuff of legend, in which a ship and her crew, like those who came before, would boldly go into the unknown and emerge triumphant.
The Chronicle Collectibles replica of the U.S.S. Enterprise NCC-1701-D is a true 1/1000th representation of that legendary ship. Lovingly recreated using a combination of fiberglass, aluminum, and resin, the Enterprise-D stands at an impressive two feet in length. Engines, deflector dish, and windows are all faithfully lit with an array of LEDs. And the illuminated display base carries the model at a height of 14 inches. The U.S.S. Enterprise NCC-1701-D Replica is exclusively available through Chronicle Collectibles. Reserve yours today.
Crafted in fiberglass, aluminum and resin.
Complete LED lighting for windows, navigational deflector dish, warp and impulse engines.
Starship is 24″ long x 19″ wide x 7″ tall
Illuminated LCARS display base measures 17″ long x 13″ wide x 3″ tall
Overall display height approx. 14″
Limited edition TBD.
Available exclusive through Chronicle Collectibles.
Estimated to ship Q4 2020
TM &©2019 CBS Studios Inc. All Rights Reserved

To contact the SELLER direct, please click the CONTACT SELLER link below.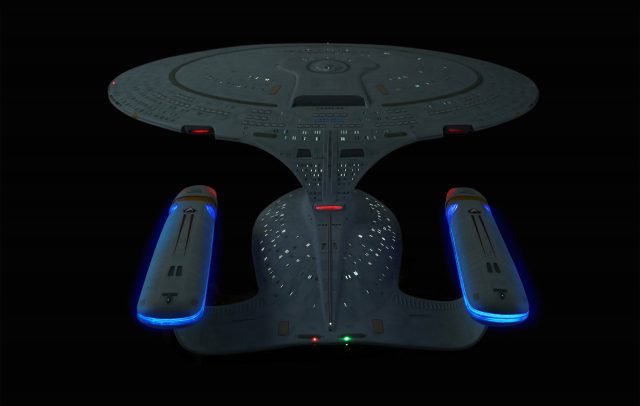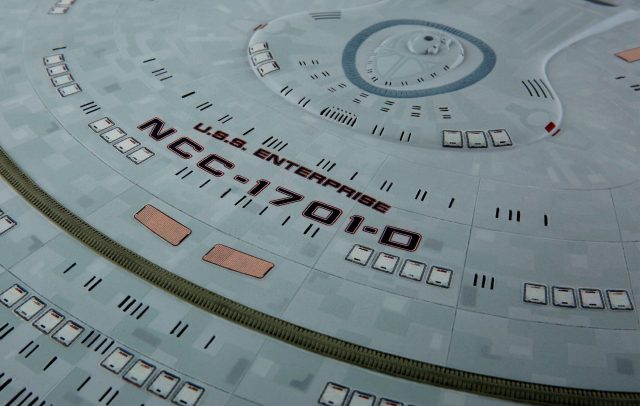 FOR IMMEDIATE PRESS RELEASE
3301 Conflans Rd #202, Irving, TX 75061 • (972) 600-8199
Chronicle Collectibles Launches Star Trek: The Next Generation
U.S.S. Enterprise NCC-1701-D
Limited Edition Scaled Replica Celebrates the Final Frontier.
July 12, 2019, Dallas, TX – Chronicle Collectibles, under license from CBS Consumer Products, will introduce a scaled replica of Star Trek: The Next Generation U.S.S. Enterprise NCC-1701-D, exclusively available at www.chroniclecollectibles.com/products/enterprise-d. At more than two feet in length and 14 inches in height, this replica of the Enterprise-D is precision-cast from various high-quality materials, and faithfully lit with a full array of LEDs. The Enterprise-D will be the company's first in a series of high-quality replica models of the various starships that appear in the many incarnations of the acclaimed science fiction series.
The Enterprise-D debuts during 2019 San Diego ComicCon at Booth 3635, selling for $1,999.99. Star Trek enthusiasts interested in securing this limited-edition model can place a pre-order reservation starting on July 12th, 2019.
"Space…The Final Frontier." For more than half a century, these four words have served as a clarion call to Star Trek aficionados worldwide – a call to assemble, and to journey together aboard a starship into the unknown. The words are a promise of a bright tomorrow, in which humankind has expanded into the stars to pursue a noble ideal…to explore…to seek out…and to boldly go.
Since those words were first spoken, there have been many starships, and many adventures with many a crew. Throughout each of those journeys, the starship remains the central pillar, simultaneously serving as a vessel, a protector, and home. It's a symbol of the ideal served by her captain, of the mission carried out by her crew, and of the strength of the Federation they embody.
These are the qualities that inspired Chronicle Collectibles to begin production on a highly detailed scale model of the U.S.S. Enterprise NCC-1701-D … lovingly referred to by crew and fans alike as the Enterprise-D. She's the ship that was made famous more than 30 years ago by the show Star Trek: The Next Generation.
Visit www.chroniclecollectibles.com to learn more about Chronicle Collectibles' extensive licensed products. While on the site, please register for the Chronicle Collectibles' newsletter, the most direct source for keeping fans and collectors apprised of shipping dates and upcoming releases.
About Chronicle Collectibles:
We at Chronicle Collectibles strive to bring quality and authenticity into the lives of film, television and gaming fans everywhere. With a wide range of products and partnerships with
industry leaders, we bring your favorite moments and stories to life and make them available for your home or office.
About CBS Consumer Products:
CBS Consumer Products manages worldwide licensing and merchandising for a diverse slate of television brands and series from CBS, CBS Television Studios and CBS Television Distribution, as well as from the company's extensive library of titles, Showtime and CBS Films. Additionally, the group oversees online sales of programming merchandise. For more information, visit www.cbsconsumerproducts.com.



TEXAS, USA
*****************************
*****************************
Statements made, or views expressed may NOT be the views of Modeler's Miniatures & Magic
Pricing and Availability are subject to change by the Kit Maker/Vendor or Artist at any time. Modeler Magic is not responsible for maintaining the prices in accordance to the changes made by the Kit Maker/Vendor or Artist.

Professional Customer Service and Quality Control are the responsibility of the Kit Maker/Vendor or Artist selling the item of which Modeler Magic is only showing for them.
Modeler's Miniatures and Magic has no professional or monetary affiliation with any kit makers, vendors or artists shown on this site other than showing the works and offerings those Artists, Kit Makers and Vendors wish to show on Modeler Magic in their own names. Modeler Magic promotes the art form in this way. Modeler's Miniatures and Magic claims no trade marks or copyrights on anything shown on it's site other than it's own created artwork presented. Modeler Magic reserves the right to remove any material shown at any time from anyone, and we will follow all legal aspects of the art form as they are presented to us by the proven legal owners of the above stated materials and/or their court appointed representatives.

****************************************