KIT ALERT!!

Presents
WARP Models
1/537 AMT USS Enterprise REFIT
STAR TREK III
Battle Damage Conversion Kit
£74.95
Plus Shipping

Kit Materials: GRP Resin
Shipping Amount: Calculated Upon World Location
Shipping: World-Wide
Kit Availability: Made to Order. Please allow up to 14 days to ship after ordering.
Payment Methods Accepted: PayPal or Credit Card via our site. (Modeler Magic Always Recommends Using PAYPAL for BOTH Purchaser and Seller Protection.)
PayPal Address: abovebeyondretail@gmail.com
Kit Description: ENTERPRISE BATTLE DAMAGE Conversion Kit by Warp Models. From the Star Trek movie 'Search for Spock', it is one of the most saddest sights in Sci-fi movie history….The destruction of the Enterprise. We are selling a highly detailed GRP Resin Model Kit made by WARP Models. The kit comprises of battle damaged main saucer featuring blown away sections showing superb attention to detail, damaged rigging, collapsed decks and much more. It also includes replacement photon torpedo launcher and a set of 'battle' scar decals. You will need an AMT/ERTL Enterprise REFIT/1701-A (Not Included) to complete this model as you will need the secondary hull and engines plus some of the AMT/ERTL decals.
—
Thanks,
Chris Dye
Co Founder
www.abovebeyondretail.co.uk
To contact the SELLER direct, please click the CONTACT SELLER link below.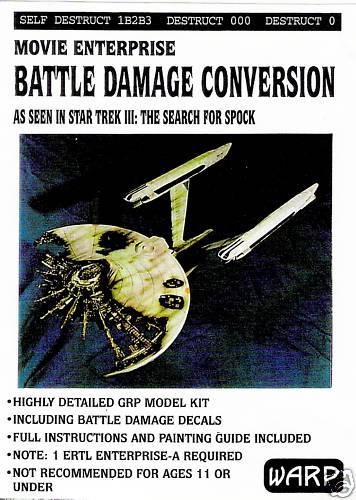 To view more on this KIT, and to purchase via PayPal or Credit Card, please click the VIEW MORE Button Link below…
**

Chris Dye & Bernie Walsh
England
*****************************
*****************************
Statements made, or views expressed may NOT be the views of Modeler's Miniatures & Magic
Pricing and Availability are subject to change by the Kit Maker/Vendor or Artist at any time. Modeler Magic is not responsible for maintaining the prices in accordance to the changes made by the Kit Maker/Vendor or Artist.

Professional Customer Service and Quality Control are the responsibility of the Kit Maker/Vendor or Artist selling the item of which Modeler Magic is only showing for them.
Modeler's Miniatures and Magic has no professional or monetary affiliation with any kit makers, vendors or artists shown on this site other than showing the works and offerings those Artists, Kit Makers and Vendors wish to show on Modeler Magic in their own names. Modeler Magic promotes the art form in this way. Modeler's Miniatures and Magic claims no trade marks or copyrights on anything shown on it's site other than it's own created artwork presented. Modeler Magic reserves the right to remove any material shown at any time from anyone, and we will follow all legal aspects of the art form as they are presented to us by the proven legal owners of the above stated materials and/or their court appointed representatives.

****************************************