KIT ALERT!!
presents
XSL-01 "Full Stack"
*Kit Producer: Fantastic Plastic Models LLC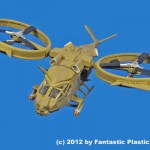 *Kit Scale: 1:72
*Kit Materials: Resin, vacuform canopy
*Number of Pieces: 41
*Kit Price:  $75.00
*Shipping Amount:  $10.00 USA, $15.00 Worldwide
*Shipping:  Worldwide
*Kit Availability Date: Now
*Payment Methods: PayPal, Check, MO
*PayPal E-Mail Address: FantasticPlast@aol.com
Kit URL: https://fantastic-plastic.com/AvatarSamsonCatalogPage.htm
*Kit Description: From James Cameron's AVATAR, this is the twin-ducted VTOL airship so memorably flown by Michelle Rodriguez.  The Aerospatiale SA-2 Samson is a multi-function ducted-fan aircraft that has been in service for decades. A true "flying workhorse," it can successfully serve a variety of missions ranging from carrying cargo to operating as a combat gunship.
Scale: 1:72
Length: 8″
Material: Resin
Number of Pieces: 41
Vacuform Canopy
Clear Resin Door Windows
Pattern by Alfred Wong
Casting by Millennium Models International (MMI)
Decals by JBOT