Terminator Genisys 1/4 Scale Endoskeleton:
We will be releasing the 1/4 Scale Endoskeleton on this 

Friday, June 12th at 6pm

 for pre-order on our website! We will offer a special limited-time price of $500 plus shipping, but this price will only last for a month, so get yours early!
Terminator Genisys 1:1 Full Endoskeleton:
No, your eyes have not deceived you. We are releasing the unique Terminator Genisys 1:1 Full Endoskeletons for purchase on our website on 

Friday, June 19th at 6pm.

 Every piece in this Endoskeleton was grown directly from the digital files provided by Legacy Effects and will be assembled right here in our shop. These 6-foot-tall figures will be made per order at $7000 each.  Please allow 6-8 weeks for production. Due to the wide variance of shipping cost, we will not be including shipping in the cost of this piece. Please contact us for shipping quotes for your 1:1 Full Endoskeleton. You will be able to pre-order at: https://chroniclecollectibles.com/terminator-genisys-full-size-endoskeleton/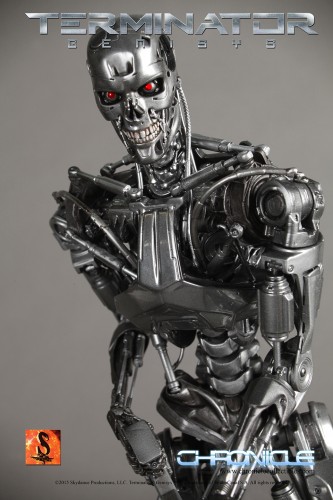 Terminator Genisys 1/4 Scale Arnold:

This piece is almost ready for pre-order. We are putting final touches on details and awaiting approval. We will send out an update for the release of this product as soon as possible.
The container ship holding ED-209 landed at the Port of Los Angeles today. It will take about 2 weeks to clear customs and bring them to our shop in Texas. I will begin sending out address confirmations and quotes for any additional shipping charges for international customers in the next few weeks. If you also purchased a Terror Dog or a RoboCop2 Cain that has already shipped, I will be using the shipping address from those shipments, unless otherwise noted. 

If you have moved since then, please let me know.
We are running a Customer Appreciation Special for the Standard Edition Terror Dogs. If you have purchased a Terror Dog, Signature or Standard, you are eligible for a second Terror Dog Standard Edition for $400, not including international shipping charges. We are running this special to allow collectors the opportunity to purchase a discounted Terror Dog to display both the Gatekeeper and the Keymaster at the same time. This deal is not being offered through our website. If you are interested in purchasing a second Terror Dog, please contact us at: agarrett@chroniclecollectibles.com. We will offer payment plans at request.
Terminator Genisys 1:1 Endorifle and Resistance Guns:
We will be introducing a 1:1 line of weaponry from Terminator Genisys. These will include featured weapons from the film, including the large BFG sported by Arnold Schwarzenegger. We will keep you updated with release dates for these weapons soon. 
The last 200 of the RoboCop2 Cain pieces are in manufacturing currently and are scheduled to arrive in August. After the last of these units sell, we will discontinue production of these rare 1/6th scale figures. We still have a few available; get yours while they are still available. Pre-order now at: https://chroniclecollectibles.com/robocop-2-cain/
Terminator Genisys 1:1 Endoskeleton Bust:
These pieces are still right on schedule. We just shipped out several of these pieces to Paramount for display pieces in movie theaters for the opening of the show. Keep a lookout for those glowing red eyes in a theater near you!
Starship Trooper Rodger Young Kits:
These kits will be coming to our website for pre-order very soon. These kits are cast from the original studio scale model, are fully licensed by Sony Pictures and would include a laser cut display stand. We will also offer a build service by our talented artist team, but the build service pricing is still to be determined. 
If you like our products, consider purchasing the June Loot Crate at www.lootcrate.com. 
We will be showcasing our Terminator Genisys™ Products at San Diego's Comic-Con this July 9th-12th and will have all of our products available for pre-order. We will also have an exclusive Comic-Con product available for sale. If you're planning to attend the San Diego Comic-Con, be sure to stop by our booth and see our prototypes and exclusive product. Our booth (same as last year) is located in the middle of the floor, next to Toynami's booth. Look for the full size Terminator Genisys™ 1:1 Endoskeleton on the top of our display cases. 
—
Amy Garrett
(469)939-9421
Director of Operations
Chronicle Collectibles
*****************************
*****************************
Statements made, or views expressed may NOT be the views of Modeler's Miniatures & Magic
Pricing and Availability are subject to change by the Kit Maker/Vendor or Artist at any time. Modeler Magic is not responsible for maintaining the prices in accordance to the changes made by the Kit Maker/Vendor or Artist.

Professional Customer Service and Quality Control are the responsibility of the Kit Maker/Vendor or Artist selling the item of which Modeler Magic is only showing for them.
Modeler's Miniatures and Magic has no professional or monetary affiliation with any kit makers, vendors or artists shown on this site other than showing the works and offerings those Artists, Kit Makers and Vendors wish to show on Modeler Magic in their own names. Modeler Magic promotes the art form in this way. Modeler's Miniatures and Magic claims no trade marks or copyrights on anything shown on it's site other than it's own created artwork presented. Modeler Magic reserves the right to remove any material shown at any time from anyone, and we will follow all legal aspects of the art form as they are presented to us by the proven legal owners of the above stated materials and/or their court appointed representatives.

****************************************