Greetings from Texas! We'd like to share several updates with you for our new and existing products here at Chronicle.
Jurassic Park: 1:20 Scale T-Rex Diorama
We have had a great deal of interest in this product and we are excited to say that we will have images to share in the next 3 weeks.
Jurassic Park: The Lost World Studio-Scale Maquette Stegosaurus and Compsognathus
We're happy to say that the Stegosaurus is being molded and cast now and, upon approval, we'll be molding and casting the Compsognathus very soon.
1:6 Scale Posable Figures of Jurassic Park: Dr. Alan Grant and Jurassic World: Owen Grady
These two figures are in the works and prototypes will be available at the San Diego ComicCon in July 2016.
Jurassic Park: The Lost World 1:5 Scale T-Rex Bust
Nothing new here except that this is an amazing piece and they are selling quickly! Get yours now before the opportunity is gone!
Ghostbusters Terror Dog (Signature and Standard Edition)
We have a very limited number Terror Dogs remaining. If you have already purchased a Terror Dog, we are still running our Customer Appreciation Special for the purchase of a second Standard Edition Terror Dog at $400. This price includes shipping for US Domestic customers.
RoboCop ED-209 and RoboCop 2 Cain
These two amazing pieces have had a resurgence of popularity and are selling quickly. We recommend purchasing one soon if you have not already done so, as they may sell out before you have the opportunity.
Stargate Horus Helmet
Production is well underway and we are hoping to start shipping sometime in the 2nd quarter.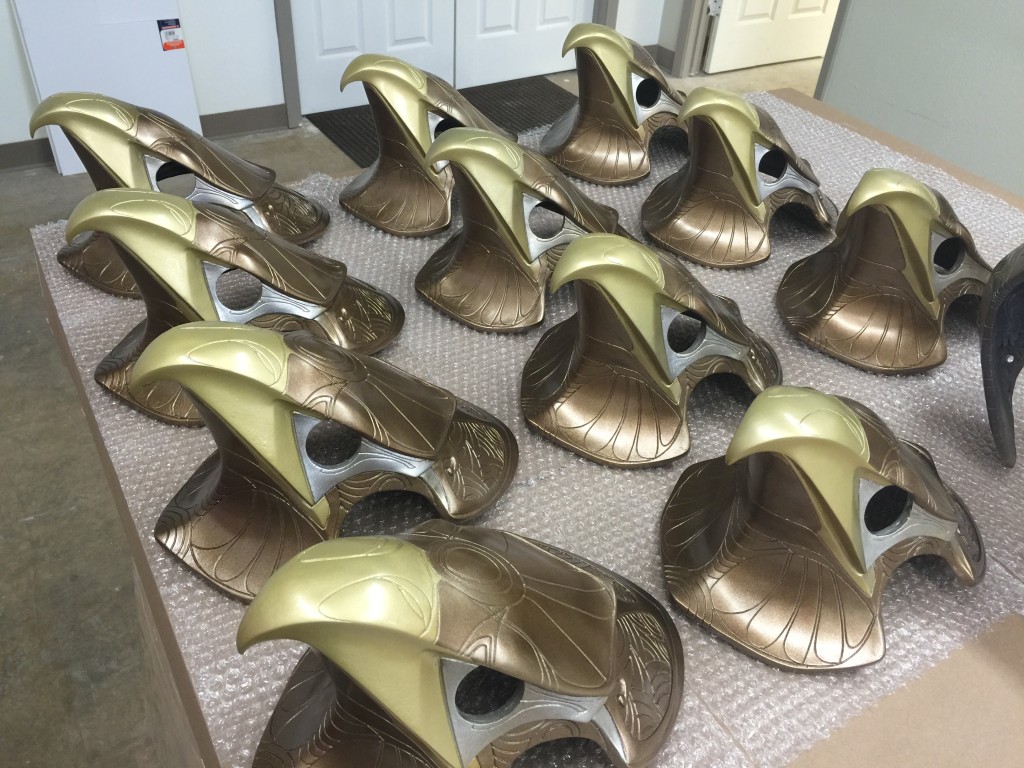 Starship Troopers Rodger Young Model Kit
This 3-foot long studio-scale model has taken off with great popularity and is made to order. Please allow 4-6 weeks for shipping. If you are interested in a builder for your kit, you may want to consider becoming a member of the StatueForum or the RPF in order to search for one in your area.
Terminator Genisys T-800 Poster
This retro poster is custom and unique in every way. Bob Lindenmayer, our in-house artist, designed this poster with Skydance Productions' approval and it features the T-800 battalion seen from the film holding the large EndoRifle. This poster is a must-have for every Terminator Genisys collector, serving as the perfect backdrop for your collection.
Terminator Genisys 1:4 Scale Endoskeleton
This highly-anticipated piece will be shipping sometime in mid-June. Although this amazing statue has been sold out for quite some time, we are currently adding names to a waitlist in the hopes of extras becoming available.
Terminator Genisys 1:1 Endoskeleton Skull
The second shipment of this very popular piece made its way to Texas in mid-February. This product is an incredible representation of the original and is ready to ship to you!
1984 Terminator Genisys Battle Damaged 1:2 Scale Bust
This long-awaited piece is selling fast! With its attention to detail and wonderful representation of the battle-damaged figure from the movie, we are hoping to start shipping this piece out sometime in the 2nd quarter.
Terminator Genisys 1:4 Scale Guardian and Compass Watch
The very popular Guardian started shipping 3 weeks ago. We are excited to share this artfully crafted piece with fellow collectors and look forward to continuing shipment to our customers in the coming weeks. The Compass Watch is not only a functioning time piece, but is also the perfect addition to every Terminator Genisys collection. What better way to finish off the perfect display than with this unique piece!
1:4 Scale King Conan
This gorgeous piece is coming together beautifully. We've had many customers ask of its release and pricing and are as excited as all of you to get these answers. This long-awaited piece will be available for pre-order just as soon as we have pricing locked in. Stay tuned for more information very soon!
Vikings 1:6 Scale Posable Ragnar
We're excited to announce that we will be adding this piece to our collection in the months ahead. Stay tuned for future updates.
Shipping Quotes:
We are more than happy to provide shipping quotes for our products. When sending requests please provide us with your full address. This is the only way we can ensure our customers an accurate quote for the delivery of their product.
We hope this newsletter finds you well! We'd like to take this opportunity to thank each and every customer and follower that we have here at Chronicle. You are truly at the heart of all that we do and we are grateful for the opportunity to serve you. Please stay updated with Chronicle Collectibles through our Facebook, Twitter, Instagram, and YouTube.
Heather Ross
Customer Service Coordinator
Chronicle Collectibles
hross@chroniclecollectibles.com

To visit the CHRONICLE site direct, please click the banner link above.
To contact CHRONICLE direct, please click the CONTACT ARTIST link below.

*****************************
*****************************
Statements made, or views expressed may NOT be the views of Modeler's Miniatures & Magic
Pricing and Availability are subject to change by the Kit Maker/Vendor or Artist at any time. Modeler Magic is not responsible for maintaining the prices in accordance to the changes made by the Kit Maker/Vendor or Artist.

Professional Customer Service and Quality Control are the responsibility of the Kit Maker/Vendor or Artist selling the item of which Modeler Magic is only showing for them.
Modeler's Miniatures and Magic has no professional or monetary affiliation with any kit makers, vendors or artists shown on this site other than showing the works and offerings those Artists, Kit Makers and Vendors wish to show on Modeler Magic in their own names. Modeler Magic promotes the art form in this way. Modeler's Miniatures and Magic claims no trade marks or copyrights on anything shown on it's site other than it's own created artwork presented. Modeler Magic reserves the right to remove any material shown at any time from anyone, and we will follow all legal aspects of the art form as they are presented to us by the proven legal owners of the above stated materials and/or their court appointed representatives.

****************************************