When I first came into this art form one of the first artists I came to appreciate and watch frequently was Mr. Lasse Henning. His work inspired nearly everything I have in the collection today from now equally appreciated and fantastic artists.
When Lasse informed us all he was doing a Vader TIE, I contacted him immediately for this commission. I had been waiting for an artist to come up with either a studio scale replica, or larger. Lasse's is larger at it's 1:18 scale ( he has labeled as SUPER SCALE! You can see by the photo below that the TIE ball is nearly as large as my head in that photo. And I am actually pressing my jaw along the rim of the back of the model itself! IT IS HUGE!! And… IT IS QUALITY! It looks as if it were a plastic injected kit made from digitally made dyes! AMAZING! This is one of the crowning pieces that I am honored to show in the collection! Thank you Lasse for you incredible work, and contributions to the excellence of this art form!
MMM Gallery/Museum Appraised at $4,500 U.S.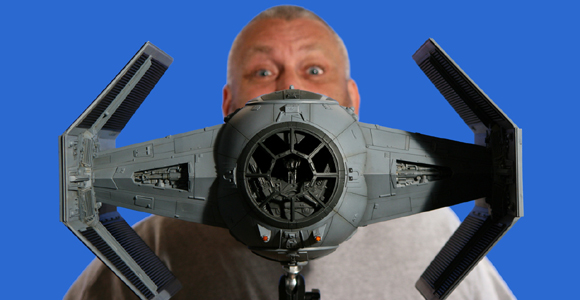 To contact Lasse Henning about his services, please click the banner link below!


The Blue Screen Photos were taken with a Canon REBEL XTi by Kurt Kuhn of Kuhn Global Inc. utilizing the industry filming blue screen back drop sold by eefx.com.